Glaspatrick Church - Glaise Phádraig – Patrick's Stream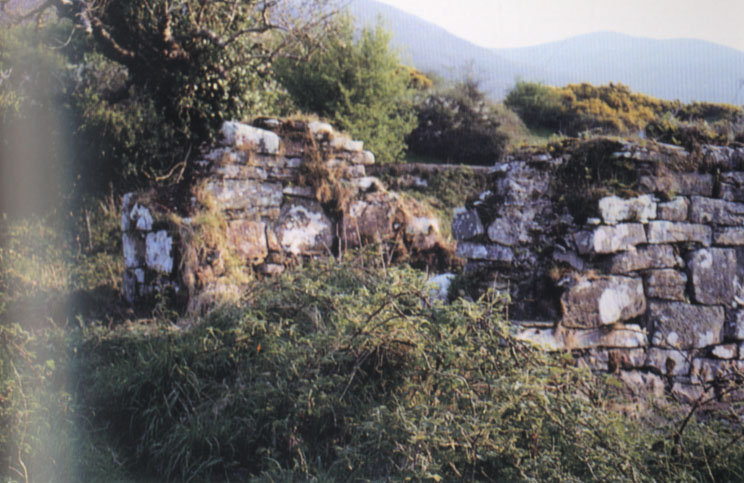 The remains of this church are largely overgrown with briars. However, while the west gable of the church is gone and the east gable has been reduced to the foundations, the proportions of the church suggest that it belongs to the early medieval period – probably early 12th century, further evidenced by the large stones used in its construction. The church and the surrounding area takes its name from the nearby stream, glaise Phádraig, Patrick's Stream. However, its most famous connection to St Patrick is through a man named Totmáel, the saint's charioteer, who is said to have died in the area and to have been buried at this site.

Glaise Phádraig
Tá fásra de dhriseacha scaipthe cuid mhór ar fhothrach an tséipéil seo. Mar sin féin, cé go bhfuil an bhinn thiar den séipéal imithe agus go bhfuil an bhinn thoir tite go dtí an bhunshraith, tugann buntomhais an tséipéil le tuiscint go mbaineann sé le tréimhe sa luathmheánaois – is dócha go luath sa 12ú haois. Tá tuilleadh fianaise air sin sna clocha móra a úsáideadh ina thógáil. Faigheann an séipéal agus an ceantar máguaird a ainm ó shruthán in aice láimhe, Glaise Phádraig, Sruthán Phádraig. Mar sin féin, is é an ceangal is cáiliúla atá aige le Naomh Pádraig ná an fear darbh ainm Totmáel, carbadóir an naoimh, a deirtear a cailleadh sa cheantar agus a cuireadh ar an láthair seo.