Statue of St Patrick -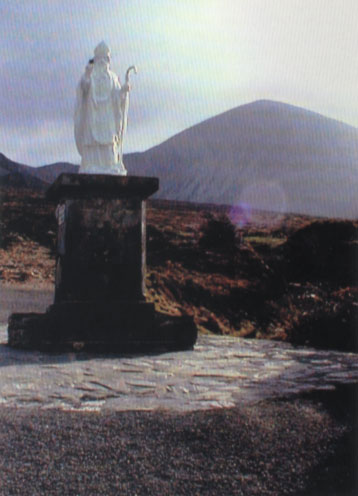 The Statue of St Patrick at the start of the traditional pilgrim route up Croagh Patrick was erected in 1928 by Father Patrick Patterson. While the statue is not one of the traditional stations along the pilgrim route, it is used by most people as a starting and finishing point for the journey up the mountain.

Dealbh de Naomh Pádraig
Tá an Dealbh de Naomh Pádraig ag tús an bhealaigh oilithreachta traidisiúnta suas Cruach Phádraig agus is é an tAthair Patrick Patterson a thóg í sa bhliain 1928. Cé nach ceann de na stáisiúin thraidisiúnta í an dealbh ar an mbealach oilithreachta, baineann formhór na ndaoine úsáid aisti mar an pointe tosaigh agus an pointe deiridh den aistear suas an sliabh.