National Famine Monument -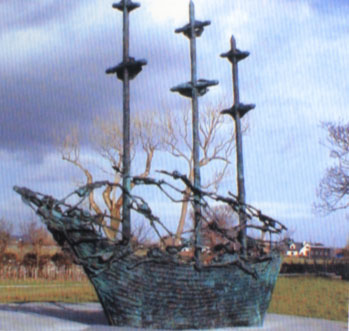 The National Famine Monument was unveiled in July 1997 by President Mary Robinson. Created by John Behan, the monument is cast in bronze and depicts what were known as the coffin ships. The sails on this ship are fashioned like skeletons, representing the misery of the trip to the New World for millions. In 2001, a sister monument was unveiled outside the United Nations building in New York. However, the New York ship also has two gangplanks with survivors emerging onto land after their trip across the Atlantic Ocean.

Séadchomhartha Náisiúnta an Ghorta
Nocht an tUachtarán Máire Mhic Róibín Séadchomhartha Náisiúnta an Ghorta i mí Iúil 1997. Ba é John Behan a dhear é agus teilgeadh an séadchomhartha i gcré-umha agus léiríonn sé a raibh ar eolas faoi na longa báis. Tá seolta an loing múnlaithe mar chreatlaigh, rud a léiríonn an ainnise a bhain leis an aistear chuig an Domhan Nua do na milliúin duine. In 2001, nochtadh comh-shéadchomhartha lasmuigh d'fhoirgneamh na Náisiún Aontaithe i Nua Eabhrac. Tá dhá stangairt ar long Nua Eabhrac, áfach, a léiríonn na daoine a mhair tríd an anó ag teacht i dtír tar éis an aistir trasna na Farraige Móire.