Murrisk Abbey - Muraisc – Sea Marsh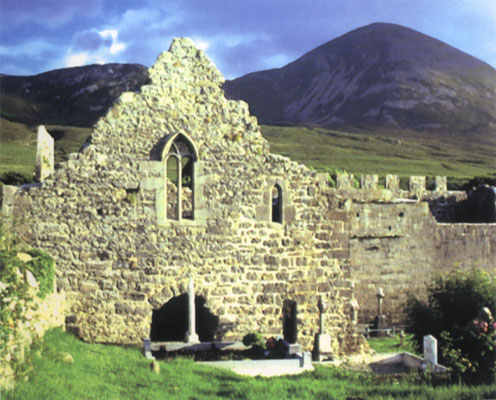 Murrisk Abbey was founded circa 1456 by the Augustinian Friars because "the inhabitants of those parts have not hitherto been instructed in their faith." It quickly became the preferred starting point for pilgrimages up Croagh Patrick. Before then, pilgrims approached the mountain from AnTóchar Phádraig, which starts in Aughagower. The ruins consist of an L-shaped building representing the long and narrow church, the sacristy and the chapter room with overhead dormitory. There is a beautiful east window with carved human heads on the wall outside. The south wall is crowned with unusual battlements and a number of trefoil and ogee-headed windows. There was a belfry tower at the west end of the church, inserted after the church itself was completed. However, the church outlived its new addition; all that survives of this tower now is a ribbed vault.

Mainistir Mhuraisce
Deirtear gur bhunaigh na Manaigh Agaistíneacha Mainistir Mhuraisce in 1456 mar gheall nach raibh teagasc faighte ag na daoine a chónaigh sa cheantar sin ar an gcreideamh. Ba ghearr go mba é an pointe tosaigh é d'oilithreachtaí suas Cruach Phádraig. Roimhe sin, thugadh oilithrigh faoin sliabh ó Thóchar Phádraig, ag tosú in Áth an Ghabhair. Is foirgneamh i gcruth L atá san fhoirgneamh a léiríonn séipéal fada cúng, an sacraistí agus an seomra caibidle le suanlios os a chionn. Tá fuinneog álainn ar an taobh thoir agus tá cinn daoine snoite ar an mballa lasmuigh. Tá táibhle ar an mballa ó dheas agus fuinneoga trédhuilleacha agus ceannchíoma. Bhíodh cloigtheach ag ceann thiar an tséipéil, a cuireadh isteach tar éis an séipéal féin a bheith críochnaithe. Mar sin féin, is faide a mhair an séipéal ná an píosa nua a cuireadh leis; ní mhaireann den túr anois ach boghta iomaireach.