Annagh-Killadangan Archaeological Complex - Eanach – Marsh - Choill an Daingin - The Wood of the Fortress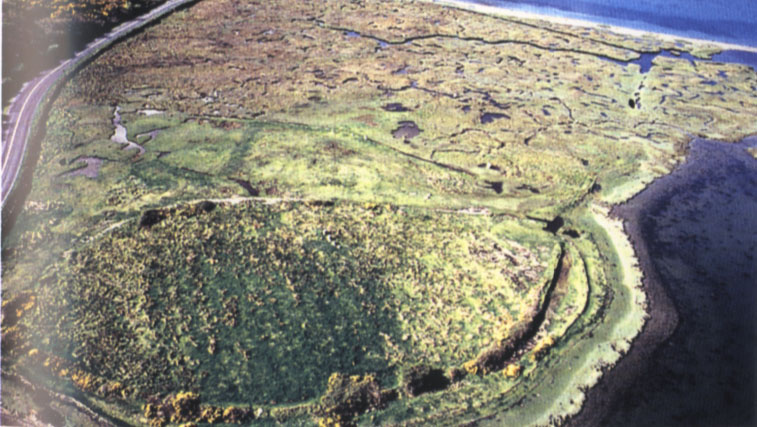 While viewing this collection of ancient monuments you are standing on a salt marsh, which can be submerged with most high tides occur. In earlier millenia, however, the high tides would not have troubled these sites. This suberb collection of monuments, probably dating from the Bronze Age, includes an oval shaped enclosure, with a fine stone row, as well as a possible stone circle, and a possible fulacht fiadh (bronze-age cooking area). The extent of this grouping of monuments suggests that this was a major ceremonial site. What is most remarkable about the enclosure is the stone row (four stones standing, one has fallen down), which increases in height from north to south, drawing the eye up to a niche in the eastern shoulder of Croagh Patrick. At about 1.50 p.m. on December 21st, the winter solstice, the sun dips into this little niche or kink in the mountain. At this point, the sun is directly in line with the row of stones, before disappearing shortly afterwards behind the mountain.

Coimpléasc Seandálaíochta Eanach – Choill an Daingin
I measc an bhailiúcháin séadchomharthaí, ón gCré-Umhaois is dócha, tá iatán ubhchruthach, alíniú liag, galláin agus b'fhéidir fulacht fia (áit a mbítí ag cócaireacht sa Chré-Umhaois). Is é an rud is suntasaí faoin iatán ná an t-ailíniú liag (ceithre ghallán, a bhfuil ceann díobh tite) agus ardaíonn ón gceann ó thuaidh go dtí an ceann ó dheas, rud a tharraingíonn an tsúil ar chuas i ngualainn thoir Chruach Phádraig. Ar an 21ú Nollaig, grianstad an gheimhridh, ag thart ar 1.50 p.m., íslíonn an ghrian isteach sa chuas nó sa scoilt bheag seo sa sliabh. Ag an tráth sin, bíonn an ghrian díreach in aon líne leis an tsraith liag, sula n-imíonn sí ó radharc ar chúl an tsléibhe go gairid ina dhiaidh sin.