Oughavale (Aughaval) Graveyard and Churches - An Nuachongbháil – The New Foundation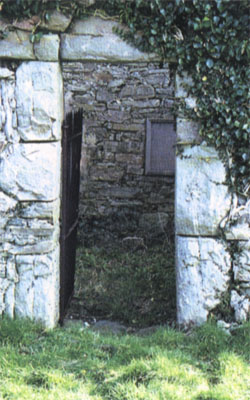 Aughaval is the main burial ground in Westport parish today and is quite unusual in that it was used by both Catholics and Protestants. It was originally a large and important early Christian monastery site with churches on either side of the road. However, today only the ruins of one remain. Its square-headed doorway is one of the few examples of early church architecture in West Mayo. Legend has it that there was a magic stone on this site called Leac Cholm Cille to which people turned to wish each other bad luck. The stone was broken by order of the priest in the 18th century.
The graveyard to the north of the road has an association with St Patrick. Here there is a stone with a large hollow, where the saint was supposed to have prayed, giving rise to the name Gloonpatrick, glúin Phádraig, or Patrick's knee. These stones are known archaeologically as Bullaun Stones and were more likely associated with metalworking.

Reilig agus Séipéil Oughavale – An Nuachongbháil
Is í Aughaval an phríomhreilig i bparóiste Chathair na Mart inniu agus tá sí sách neamhghnách mar go bhfuil idir Chaitlicigh agus Phrotastúnaigh curtha inti. Ba láthair mhór agus thábhachtach mainistreach luath-Chríostaí a bhí anseo tráth agus bhíodh séipéil ar gach aon taobh den bhóthar. Níl ach fothrach amháin ar marthain fós áfach. Tá a doras le ceann cearnógach ar cheann de na corrshamplaí d'ailtireacht luathchríostaí in Iarthar Mhaigh Eo. De réir an tseanchais bhíodh cloch dhraíochta ar an láthair seo ar a dtugtaí Leac Cholm Cille a bhíodh á húsáid ag daoine chun mí-ádh a ghuí ar a chéile. Briseadh an chloch ar ordú sagairt san 18ú haois. Bhí baint ag an reilig ó thuaidh den bhóthar le Naomh Pádraig. Tá cloch anseo a bhfuil dhá chuas inti, áit a ndeirtear a mbíodh an naomh ag guí, agus is as sin a thagann an t-ainm Glúin Phádraig. Tugtar Balláin ar na clocha seo sa seandálaíocht agus is dóichí go raibh baint acu le miotalóireacht.