Fulacht Fiadh, Porteen Finoish -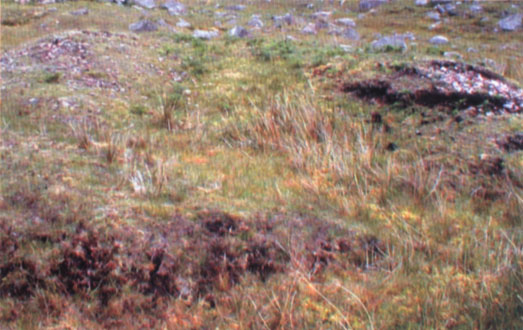 Fulachta Fiadh were bronze age open air cooking sites used by the island inhabitants about 2,500 years ago. A hole in the ground was filled with water. Stones were heated on a fire and dropped into the water to bring it to boiling point. Then the meat, usually wrapped in straw, was lowered into the boiling water. Hot stones were continuously dropped into the water until the meat was cooked. As evidenced here, these sites are generally identifiable as grass-covered horseshoe-shaped mounds, located adjacent to a small spring. There are also generally burnt stones in the vicinity of the area. There are 53 identified Fulacht Fiadh on Clare Island.

Fulacht Fiadh
Ba láithreacha cócaireachta amuigh faoin aer sa Chré-Umhaois a bhí i bhFulachtaí Fia agus bhídís á n-úsáid ag na daoine a mhair ar an oileán thart ar 2,500 bliain ó shin. Líonadh poll sa talamh le huisce. Téadh clocha i dtine agus caitheadh síos san uisce iad leis an uisce a fhiuchadh. Ansin chuirtí an fheoil, le tuí casta thart uirthi de ghnáth, síos san uisce fiuchta. Chuirtí clocha te síos san uisce go seasta nó go mbeadh an fheoil bruite. Mar is léir anseo, is féidir na láithreacha seo a aithint tríd is tríd mar charnáin i gcruth crú capall clúdaithe le féar, a bhíonn suite in aice le fuarán beag. Is minic go mbíonn clocha dóite thart san áit chomh maith.