Megalithic Court Tomb, Porteen Finoish -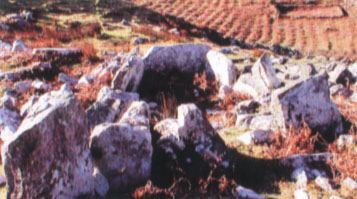 This burial mound is one of a number of court tombs which were built along the West Coast by Neolithic farmers to bury their elite. Court tombs are so called because of the arrangement of stones which form an open-air court in front of the entrance to the tomb, reflecting perhaps the communal nature of the funerary rituals and ceremonies which took place. This court tomb establishes that there was a farming community on Clare Island some 5,500 years ago. Early field walls and traces of an ancient forest can be seen in the cutaway bog due north of this tomb. Excellent traces of the famine landscape can also been seen at this site. All around are the raised potato drills used by tenant farmers to grow their staple crop.

Tuama Megiliteach
Tá an tuama seo ar cheann de roinnt tuamaí cúirte a thóg feirmeoirí neoiliteacha ar feadh chósta an Iarthair chun a gcuid uaisle a adhlacadh iontu. Tugtar tuamaí cúirte orthu mar gheall ar an gcóiríocht chloch a dhéanann cúirt faoin aer os comhair an bhealaigh isteach chuig an tuama, a léiríonn b'fhéidir nádúr pobail na ndeasghnáth agus na searmanas sochraide a bhíodh ag tarlú ann. Cruthaíonn an tuama cúirte seo go raibh pobal feirmeoireachta ar Chliara thart ar 5,500 bliain ó shin. Is féidir luathbhallaí garraithe agus rianta d'fhoraois ársa a fheiceáil sa lagphortach ó thuaidh den tuama seo. Is féidir rianta den scoth de thírdhreach ó aimsir an Ghorta a fheiceáil ag an láthair seo chomh maith. Tá iomairí fataí a bhíodh á n-úsáid ag na feirmeoirí tionóntaí lena bpríomhbharra a fhás le feiceáil ar fud na háite.