Signal Tower, Tuar Mór -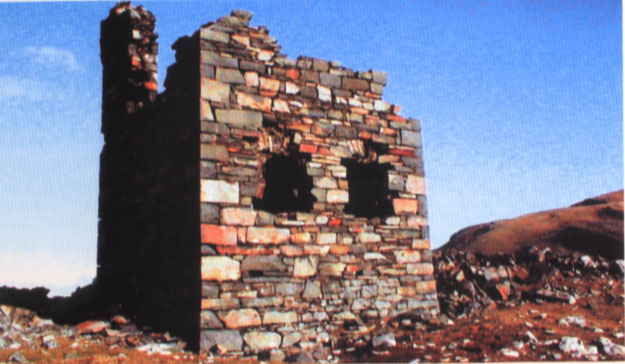 Signal towers such as this example, were built in direct response to landings by the French in Ireland in 1798 and as a defence against the threat of further such landings. This signal tower was built in 1804. The cost and effort involved in the construction of the tower must have been exorbitant in its day and belies the strategic importance of the West of Ireland as a gateway to invading the British Empire. This tower is one of a line of interlinked towers along the coast. The next one to the north is on Achill Island and, to the south, on Inishturk.

Túr Comharthaíochta, Tuar Mór
Tógadh túir chomharthaíochta ar nós an sampla seo mar fhreagairt dhíreach ar na Francaigh a theacht i dtír in Éirinn sa bhliain 1798, agus ba mar chosaint iad in aghaidh an baol a bhí ann go ndéanfaí ionsaithe eile níos faide anonn. Tógadh an túr comharthaíochta seo sa bhliain 1804. Caithfidh sé go raibh an costas agus an t-anró a bhain leis an túr a thógáil an-mhór ar fad an tráth úd agus bréagnaíonn sé an tábhacht straitéiseach a bhí le hIarthar na hÉireann mar gheata chun Impireacht na Breataine a ionsaí. Tá an túr seo ar cheann de líne de thúir idirnasctha ar feadh an chósta. Tá an chéad cheann eile ó Thuaidh de ar Acaill agus an ceann is gaire ó dheas ar Inis Toirc.