Boheh Stone - Both Sheith – The Skinhide Hut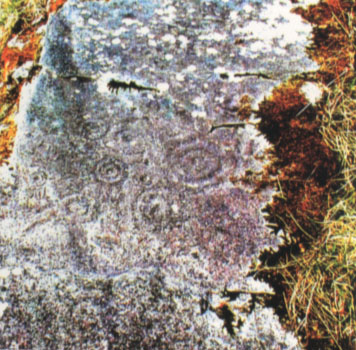 The Boheh Stone is one of the finest examples of neolithic rock art in Ireland and Britain. The carvings – mainly cupmarks, enclosed by one or two circles with a small number of keyhole motifs – date to the same era in which the well-known carvings at New Grange, Dowth and Knowth in Co. Meath were inscribed. This stone was later Christianised and called St Patrick's Chair. From this outcrop there is a full view of Croagh Patrick. A local historian discovered that on April 18th and August 24th the sun sets on top of Croagh Patrick when viewed from the site. Then, instead of disappearing behind the mountain, the sun rolls down the northern shoulder of the mountain. These two dates also split the year in three equal parts and it is thought that they were used to celebrate sowing and harvesting seasons.

Cloch Bhoth Sheithe
Tá Cloch Bhoth Sheithe ar cheann de na samplaí is fearr d'ealaín chloiche neoiliteach in Éirinn agus sa Bhreatain. Tagann an snoíodóireacht – cuasghreannadh den chuid is mó, iata ag ciorcal amháin nó péire agus líon beag móitífeanna poll eochrach – ón ré chéanna ar inscríobhadh an greannadh cáiliúil ag Sí an Bhrú, Dubhadh agus Cnobha i gCo. na Mí. Tugadh íomhá Chríostaí don chloch seo níos déanaí agus tugadh Cathaoir Naomh Pádraig uirthi. Ón lomán seo tá radharc breá ar Chruach Phádraig. Thug staraí áitiúil faoi deara go dtéann an ghrian faoi ar bharr Chruach Phádraig nuair a fhéachtar uirthi ón láthair seo an 18ú Aibreán agus an 24ú Lúnasa. Ansin, in áit di imeacht ó radharc ar chúl an tsléibhe, sleamhnaíonn an ghrian síos gualainn thuaidh an tsléibhe. Roinneann an dá dháta seo an bhliain ina trí cuid chothroma agus ceaptar go ndéantaí ceiliúradh ar shéasúir na curadóireachta agus an fhómhair ar na dátaí sin.