Clare Island Abbey -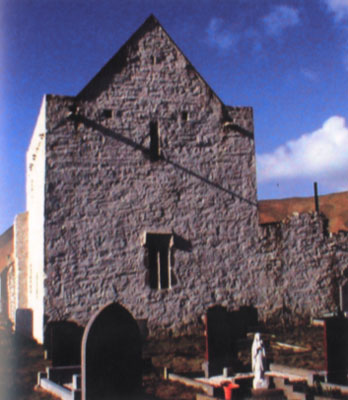 Clare Island Abbey is said to date from the mid-13th century, although it was rebuilt around 1460. It was a cell of the Cistercian Abbey in Abbeyknockmoy, Co. Galway. The building consists simply of a nave and chancel divided by an arch. The chancel is spanned by a fine barrel vault, and a staircase in the south wall leads to the domestic chamber above the vault. The chancel is lit by only two slender ogee-headed windows (arch over a window formed with reverse curves, giving an onion-shaped head) and must always have been dark. The paintings on the ceilings and walls are among the finest examples of medieval paintings in Ireland. They have been the subject of an extensive conservation programme involving the expertise of conservators from throughout Europe. The themes of the paintings are mostly secular, offering a unique glimpse of medieval life: Scenes include a cattle raid, a knight dressed in chain mail on horseback, wolves attacking stags, musicians, dragons and griffins. The Abbey also houses a stone plaque with the O'Malley coat of arms. In addition, there is a canopied tomb, which is reputed to be the burial site of Granuaile.

Mainistir Chliara
Luaitear dáta ó lár an 13ú hAois le Mainistir Chliara, cé gur tógadh an athuair é thart ar an mbliain 1460. Ba chillín de Mhainistir Chistéirseach i Mainistir Chnoc Muaidhe, Co. na Gaillimhe a bhí ann. Is corp agus saingeal atá san fhoirgneamh agus áirse á roinnt. Tá an saingeal á thrasnú ag boghta mín baraille, agus téann staighre sa bhalla ó dheas go dtí seomra tí os cionn an bhoghta. Níl thagann aon sholas isteach sa saingeal ach ó dhá fhuinneog chúnga ceannchíoma (áirse os cionn fuinneoige a dhéantar le cuara cúil, a thugann ceann ar chruth oinniúin) agus caithfidh go raibh an áit dorcha i gcónaí. Tá na pictiúir atá ar an tsíleáil agus ar na ballaí ar na samplaí is fearr de phictiúir mhéanaoiseacha in Éirinn. Tháinig siad faoi chlár forleathan caomhnaithe lenar bhain saineolas caomhnóirí ó ar fud na hEorpa. Is téamaí tuata is mó atá sna pictiúir, rud a thugann spléachadh uathúil dúinn ar shaol na meánaoise: Radharcanna lena n-áirítear táin bó, ridire faoi chulaith mháilleach ar muin capaill, madraí alta ag ionsaí fianna, ceoltóirí, dragain agus gríobha. Tá plaic chloiche sa Mhainistir freisin ar a bhfuil armas Uí Mháille. Chomh maith leis sin, tá tuama forscátha ann, áit a ndeirtear go bhfuil Gráinne Uaile curtha.