Clare Island Tower House - Oilean Chliara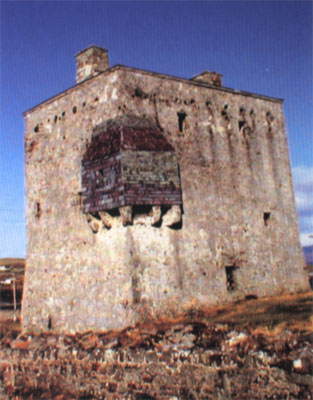 This castle is a fine example of a Tower House, built by the O'Malleys in the sixteenth century. Tower houses were often designed to a standard plan which can be seen here: rectangular, three storeys high with a vault over the ground floor and topped by a pitched slate or thatched roof. The roof was protected by a battlement parapet over the entrance so that objects could be dropped directly onto attackers. Within the thickness of the walls were staircase passages and other features, such as garderobes, or toilets. If you enter the Tower House at Clare Island, you will see that to the left of the main entrance is a mural passage with stone stairs beginning at first floor level. Access to these stairs may have been via a wooden staircase from the ground floor. The main living room was at first floor level with access to the bartizans (roofed, floorless turrets) and the garderobe. The castle was converted into a police barracks around 1826 when the purple slate flashing was added to the two bartizans.

Túrtheach Chliara
Is sampla maith é an caisleán seo de thúrtheach, a thóg muintir Uí Mháille sa séú haois déag. Rinneadh túrthithe a dhearadh de réir plean caighdeánach mar a fheictear anseo: dronuilleach, trí stór ar airde agus boghta os cionn urlár na talún mar aon le slinn chlaonta nó díon ceann tuí ar a bharr. Bhí cosaint ag an díon le huchtbhalla táibhle os cionn an bhealaigh isteach ionas go bhféadfaí rudaí a chaitheamh anuas díreach ar dhaoine a bheadh ag ionsaí na háite. Bhíodh bealaí staighre agus gnéithe eile, mar losáin, nó leithris istigh sna ballaí. Má théann tú isteach sa Túrtheach ar Chliara, feicfidh tú ar thaobh na láimhe clé de phríomhbhealach isteach pasáiste balla le staighre cloiche ag tosú ar an gcéad urlár. D'fhéadfadh sé go raibh teacht ar an staighre seo trí staighre adhmaid ó urlár na talún. Bhí an príomhsheomra cónaithe ar an gcéad urlár agus bealach uaidh go dtí na bartasáin (túiríní faoi dhíon, gan urlár) agus losán. Tiontaíodh an Caisleán isteach ina bheairic póilíní thart ar an mbliain 1826, agus tá a fhianaise sin le feiceáil sa slinn chorcra atá ar an dá bhartasán.