Killeen Graveyard and Cross Slab - Cillín – Small Graveyard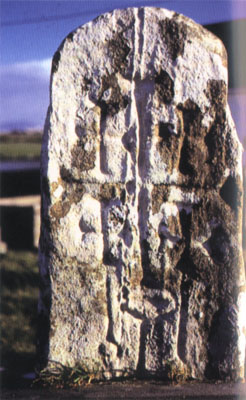 This graveyard is now in the area known as Killeen. However, the original church on the site may have given its name to the neighbouring townland of Killadoon, Cill an dúin, "church of the fort". There is no trace of the early Christian church but there is a circular raised platform within the graveyard which could indicate where the original church stood. Tradition has it that if a person found guilty of any crime placed a finger in the keyhole of the church door, he/she would be let go free. In the graveyard, there is a large standing stone, leaning precariously, which was christianised during the seventh century with a Maltese Cross – a four-petaled tulip design, enclosed by a double circle. Marking the grave of Reverend David Lyons is an early Christian slab, inscribed with a main cross at the centre surrounded by four smaller crosses. This type of cross is known as the Cross of the Thieves.

Reilig an Chillín agus Crosleacht
Tá an reilig seo anois sa cheantar a dtugtar an Cillín air. Mar sin féin, d'fhéadfadh sé gur thug an séipéal ar an láthair seo an t-ainm don bhaile fearainn in aice láimhe, Cill an Dúin. Níl aon rian ann den séipéal luathChríostaí ach tá ardán ciorclach sa reilig a d'fhéadfadh a bheith mar leid ar cá raibh an séipéal tráth den saol. De réir an traidisiúin, dá gcuirfeadh duine a chiontófaí i gcoir a mhéar i bpoll na heochrach i ndoras an tséipéil ligfí saor é nó í. Sa reilig, tá gallán cloiche mór, a bhfuil leathmhaing air, agus a críostaíodh sa seachtú haois le Cros Mhálta – dearadh tiúilipe ceithredhuilleach, iata ag ciorcal dúbailte. Tá leacht luathChríostaí mar mharc ar uaigh an Urramaigh David Lyons, agus tá príomhchros inscríofa sa lár agus ceithre chros bheaga ina timpeall. Is Cros na nGadaithe a thugtar ar an gcineál sin croise.