Bunlahinch Clapperbridge - Bun na hInse – Bottom of the River Meadow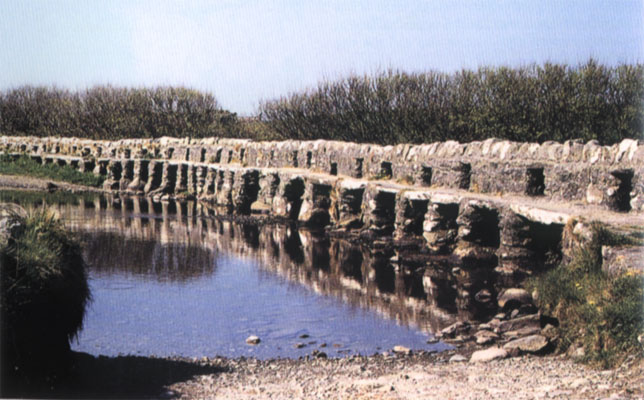 This clapperbridge is a very unusual feature in the West of Ireland. The word clapper originally meant plank in the Sussex area of England, where there are many examples. Clapperbridges are a pre-historic form of stone-built bridge. The basic structure consists of small stone piers or pillars, which are spanned by flat stone slabs or planks. They were designed to cross wide, flat streams and rivers, as seen here, and used as footbridges. It is likely that this bridge was built in the 1840s or 50s as part of work carried out by the Irish Church Mission, a Protestant community or colony which was given the land rent free by the Marquis of Sligo. Locally, the area is still called The Colony.

Droichead Lindéir Bhun Leath Inse [Bun na hInse]
Is gné neamhghnách amach is amach é an droichead lindéir seo in Iarthar na hÉireann. Is sail an bhunbhrí a bhí leis an bhfocal lindéar i gceantar Sussex i Sasana, áit a bhfuil samplaí go leor de le fáil. Is cineál droichid cloiche réamhstairiúil é an droichead lindéir. Tá an struchtúr bunúsach déanta as piaraí nó piléir bheaga cloiche, a bhíonn trasnaithe ag leachtanna cothroma cloiche nó ag saileanna. Dearadh iad chun aibhneacha agus srutháin leathana, cothroma a thrasnú, mar a fheictear anseo, agus baineadh úsáid astu mar dhroichid coise. Is é is dóichí gur tógadh an droichead seo sna 1840idí nó 1850idí mar chuid den obair a rinne Misean Eaglais na hÉireann, pobal nó coilíneacht Phrotastúnach ar thug Marcas Shligigh talamh saor ó chíos dóibh. Tugtar an Choilíneacht go háitiúil ar an gceantar go fóill.