Srahwee or Altóir Megalithic Wedge Tomb - Sraith Bhuí – The Yellow River Land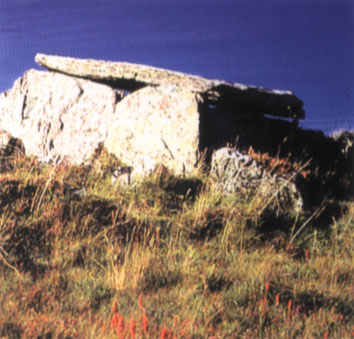 This is one of the finest megalithic tombs in Ireland. This particular example is a wedge tomb, so-called because of its shape, wider and higher at the entrance and gradually tapering towards the rear. This type of tomb dates to the beginning of the Bronze Age (about 2,000 BC), when there was a final flourish of tomb building in Ireland. The flat roof stone was used as an altar during Penal times, giving the tomb its local name, Altóir, meaning altar. It has a primitive incised cross at the upper surface at the south-eastern end. Look 100 metres south-west of the tomb to see one of the best examples of an ancient forest to be seen in the country. The stumps of these 4,500 year old trees can be seen in the cutaway bog in and around the lake.

Sraith Bhuí nó Altóir
Seo ceann de na tuamaí meigiliteacha is fearr in Éirinn. Is sampla de thuama dingeach é an ceann áirithe seo, a ainmnítear mar gheall ar a chruth, é níos leithne agus níos airde ag an mbealach isteach agus ag caolú isteach i dtreo a dheiridh. Tógadh an cineál seo tuama ag tús na Cré-Umhaoise (thart ar 2000 BC), nuair a bhí an borradh deiridh faoi thógáil tuamaí in Éirinn. Baineadh úsáid as an díon cothrom cloiche mar altóir le linn na bPéindlithe, agus is as sin a thagann an t-ainm áitiúil, Altóir. Tá cros bhunaidh gearrtha isteach ar an dromchla uachtarach ag an gceann thoir-theas de. Má bhreathnaítear 100 méadar siar ó dheas ón tuama, tá ceann de na samplaí is fearr in Éirinn d'fhoraois ársa le feiceáil sa lagphortach agus sa loch.