Famine Museum and Gráinne Uaile Centre, Louisburgh - Cluain Cearbhán – Meadow of the Buttercups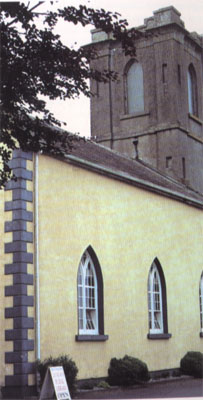 The Famine Museum in Louisburgh recounts local memories of the famine, presents coverage of the famine in the media, nationally and locally, and shows how links have been established between Louisburgh and other parts of the world, culminating in the local famine walk along Doo Lough Valley. The Gráinne Uaile Centre recounts the life and times of the 16th century O'Malley Chief and Sea Captain, Granuaile (Grace O'Malley or Gráinne Uaile) who headed the shipping fleet which reigned supreme in Clew Bay at that time.

Músaem an Ghorta agus Ionad Ghráinne Mhaoil, Cluain Cearbhán
Déanann Músaem an Ghorta i gCluain Cearbhán cur síos ar na cuimhní áitiúla atá ar an nGorta Mór, cuirtear an trácht a bhí ar an nGorta sna meáin, go náisiúnta agus go háitiúil, i láthair agus taipeántar mar a bunaíodh naisc idir Cluain Cearbhán agus codanna eile den domhan, agus tá siúlóid ar feadh Ghleann Dhúloch mar chríoch air. Tugann Ionad Ghráinne Uaile cuntas ar an saol mar a bhí sa 16ú haois le linn ré an Taoisigh agus an Chaptaen Loinge Gráinne Uaile (nó Gráinne Ní Mháille) a bhí i gceann feadhna ar chabhlach long a raibh ceannas ceann acu i gCuan Mó ag an am.