Lime Kiln, Moneen - Móinín – Small Bog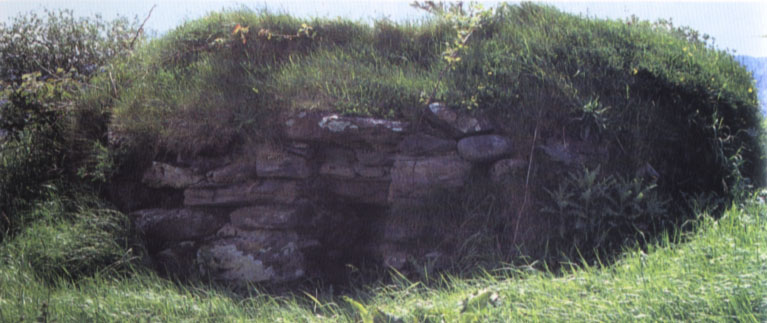 Lime Kilns date from the 18th century and were in use until the 1940s in some areas. By lighting fires in these kilns and adding crushed limestone, lime was produced for use as fertiliser in the fields and also for whitewashing cottages. Most of the lime kilns around the country have been destroyed and only rare examples survive. This site survives in its entirety and is as fine an example of its type to be found in the area.

Tornóg Aoil – Móinín
Tosaíodh ag baint úsáide as tornóga aoil san 18ú haois agus bhí siad fós á n-úsáid i roinnt áiteanna go dtí na 1940idí. Trí thine a lasadh sna tornóga seo agus cloch aoil bhrúite a chur síos ann, rinneadh aol do leasú sna garraithe agus freisin chun aol a chur ar bhallaí na dtithe. Tá formhór na dtornóg ar fud na tíre scriosta anois agus is fíorbheag eiseamlár díobh atá ar marthain. Maireann an láthair seo ina hiomláine agus is sampla den scoth é dá chineál atá le fáil sa cheantar.