Kilgeever Abbey - Cill Ghaobhair – The Near Church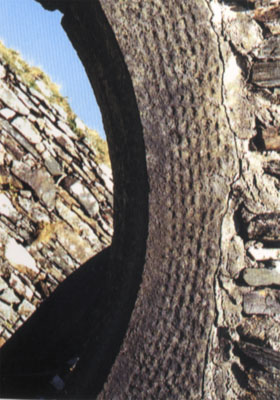 Kilgeever Abbey was traditionally where pilgrims stopped to perform stations on the turas, or journey, from Croagh Patrick to Caher Island. The rectangular church has a twelfth-century round-headed window in the eastern gable. Towards the eastern end of the church are two aumbries (small cupboards or niches used for storing vessels) in the walls. Towards the western end of the south wall is a fifteenth century door with a pock-dressed (roughly faced and shaped stone) arch. In the graveyard are two cross-slabs, dating from the seventh century AD, with V-shaped incisions. The spring well beside the entrance to the present graveyard is known locally as the "Tobar Rí an Dhomhnaigh", meaning "Our Lord's Well of the Sabbath", where pilgrims came in large numbers on July 15th, the Festival of the 12 Apostles.

Mainistir Chill Ghaobhair
Is ag Mainistir Chill Ghaobhair a stopadh na hoilithrigh chun stáisiúin a dhéanamh ar an turas ó Chruach Phádraig go hOileán na Cathrach. Tá fuinneog cruinnchinn ón dara haois déag i mbinn thoir an tséipéil dhronuilligh. Ag ceann thoir an tséipéil tá dhá almóir (cófraí beaga nó cuasa chun soithí a stóráil) sna ballaí. Ag an gceann thiar agus ar an mballa ó dheas tá doras ón gcúigiú haois déag ar a bhfuil áirse póc-chóirithe (cloch gharbhéadain mhúnlaithe). Sa reilig tá dhá chrosleacht, dar dáta an seachtú haois AD, ar a bhfuil gearrthacha ar chruth V. Tugtar Tobar Rí an Dhomhnaigh ar an bhfuarán atá ina aice an bhealaigh isteach chuig an reilig atá ann faoi láthair, áit a dtagadh oilithrigh ina sluaite ar an 15ú Iúil, Féile an dá Aspal déag.